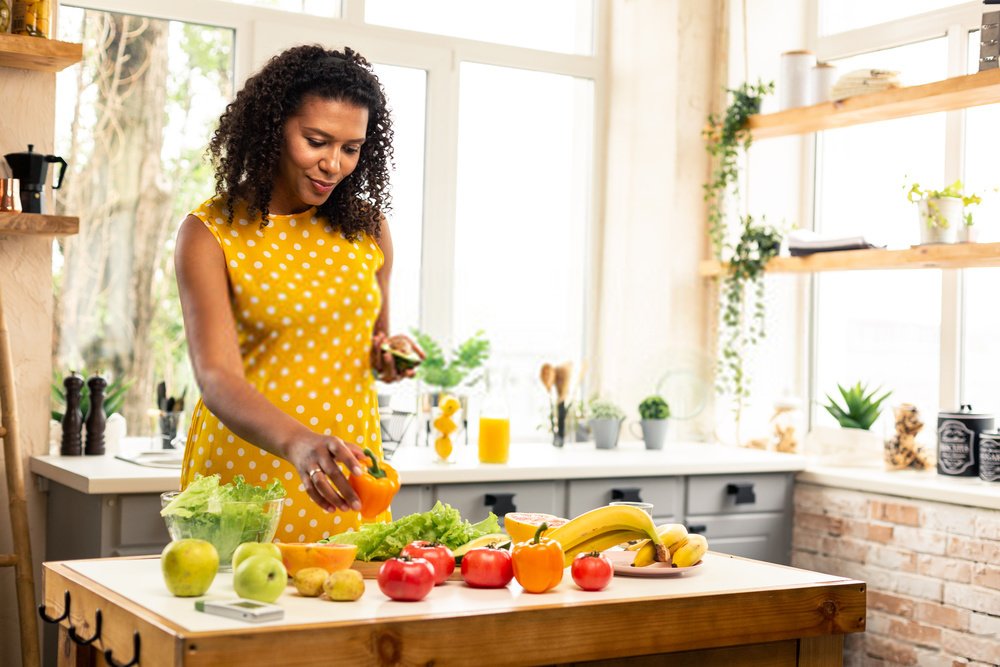 Pregnancy is not only about your baby but also about you. Wear clothes in line with your budget but dress to look good! Cotton materials are good for pregnancy as they are breathable, skin-friendly, and reusable. Avoid shirts, pant trousers, or skirts that need buttons or a zipper so that your chest and waist areas are not tight. Invest in a good quality bra, that is the right size and cup for you. Avoid bras with wire. It is also not advisable to skip wearing a bra in pregnancy as it can lead to sagging.
The diet of a pregnant woman should ensure proper fetal growth and development, maintain maternal health, and enable lactation. A pregnant woman needs six essential food nutrients that can be sourced from different food items – carbohydrates, protein, lipids and fats, water, essential fatty acids, fiber, vitamins – A, B12, B, folate, etc. Read more on the amount of these nutrients necessary in pregnancy here.
Vitamins are micronutrients that the body needs in small quantities to boost the immune system, strengthen teeth and bones, aid calcium absorption, and promote healthy blood. Vitamins can be gotten from vegetables such as carrot, lettuce, cucumber, spring onions, cabbage, efo tete, efo shoko or ugwu.

Proteins are macronutrients that the body needs in large quantities for the development of muscles, bones, hair, skin. They are necessary for forming antibodies, hormones and other essential substances in the body which will also help in the growth and development of the baby. Protein sources are lean meat, poultry, fish, seafood (prawn, crab), beans, legumes, grains, nuts, soya, dairy products, eggs.
Minerals such as sodium, magnesium, iodine, iron, calcium are micronutrients needed for healthy skin, hair, and nails. They ensure bone health and help to balance water levels in the body.
Fat provides the body with energy, improves cell growth, and aids muscle movement and brain function. It also supports the absorption of minerals and vitamins, and promotes hormone/immune production. Food sources of fats are seeds, nuts, coconut oil, vegetable oil, fish like tuna, salmon.
Carbohydrate from sugar and starch provides energy for the cells and tissues. They build the immune system, support the brain and digestive function, and provide energy to perform tasks. Sources include oatmeal, whole grains, brown bread, brown rice, baked goods.  We encourage pregnant women to take simple carbohydrates like white bread, pasta and rice in moderation as they contribute to weight gain.
Water is an essential nutrient, as every cell in the body needs water to function. The human body is made up of mostly water. It flushes out toxins from the body, absorbs shock, transports nutrients around the body, and prevents constipation. An expectant mum can take water infused with citrus fruits if she can't stand the taste of only water in the first and second trimesters.
Supplements such as folic acid and calcium are contained in food as well. Folic acid is crucial in preventing birth defects in babies. It supports brain development and spinal cord development, and is present in raw and cooked vegetables. Iron helps to improve blood levels, it can be seen in ugwu.
Watch Matron Adenike Adesina discuss the Mode of Dressing and Diet for Pregnancy below.